One of the most common questions couples ask me is, what is the best time to elope in Glacier National Park? Short Answer: Anytime of year is a great time to Elope in Glacier National Park! Every season has something to offer! 
It all depends on what you are looking for. Going-to-the-Sun-Road is completely open for a limited time each year. This is the main corridor allowing visitors to travel directly through Glacier National Park from the western entrance at Apgar all the way to the East Entrance to Glacier at St. Mary (or visa-verse).
For many visitors, driving this historic road is at the top of their Glacier National Park to-do list. Completed in 1933 and lauded for being one of "the most scenic drives in the world" , Going-to-the-sun-Road takes travelers on a winding journey, with jaw dropping views, and for those who are afraid of heights, a few white knuckle moments. For those of you who are fascinated by the history of a place and the feats and measures taken to create access, definitely take a few minutes to read a little more about the Going-to-the-Sun-Road .
I highly recommend booking a Red Bus Tour for a relaxing ride to the top, with stops at all the great scenic lookouts and a little history and local folklore shared by the dedicated drivers of the "Jammers" .  This is also a great way to transport groups for elopements so you don't have to drive multiple vehicles or worry about finding parking! (Red buses have their own reserved parking spots)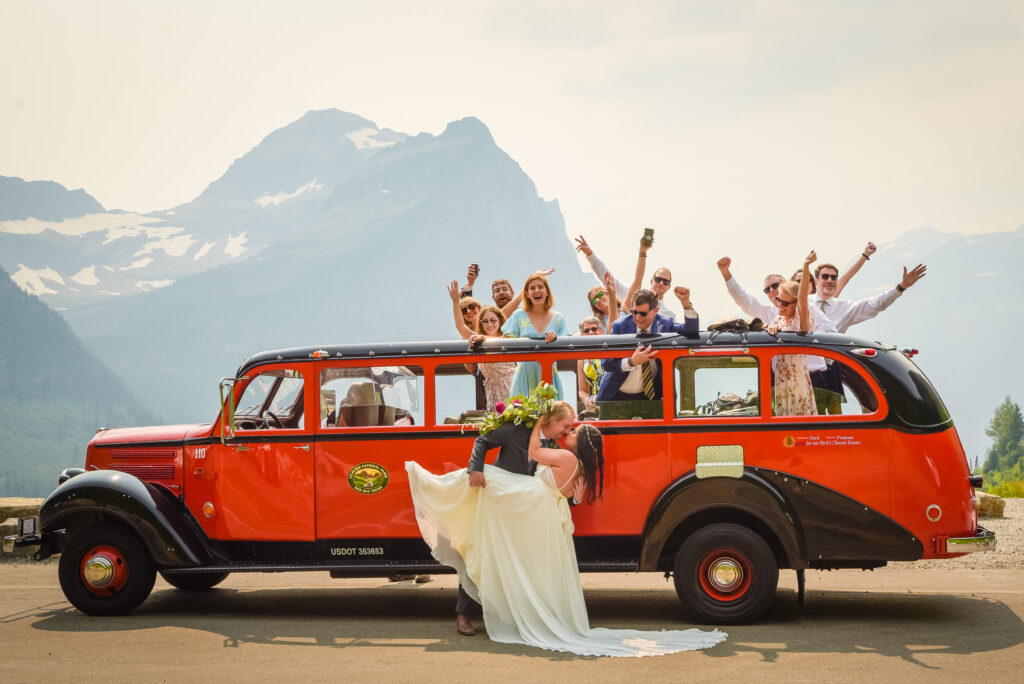 Renting one of the historic red buses for your Glacier Park Elopement is such a fun way to add little something extra to your day, especially if you have guests joining you! So if accessing the entire length of Going-to-the-Sun-Road is a huge factor for you, then you will want to plan your elopement somewhere between the last few days of a June and before the end of the first week of October. Unless there is construction planned, the open and close days are contingent on the weather and vary slightly from year to year. Be sure to check Glacier's official news page, for average opening and closure dates. Also, keep in mind that due to the nature of the road and the narrow lanes next to cliff walls and drop offs, there are size limitations on vehicles.
Keep in mind that there are, of course, other considerations involved in choosing when to travel to Montana for your Glacier National Park Elopement! But the best starting point is to select what season you want to experience in Montana. Like most states we joke about our unpredictable weather, and yes I have seen it snow in July and experienced 50 degree weather in February, but there are generally accepted seasons and norms nonetheless.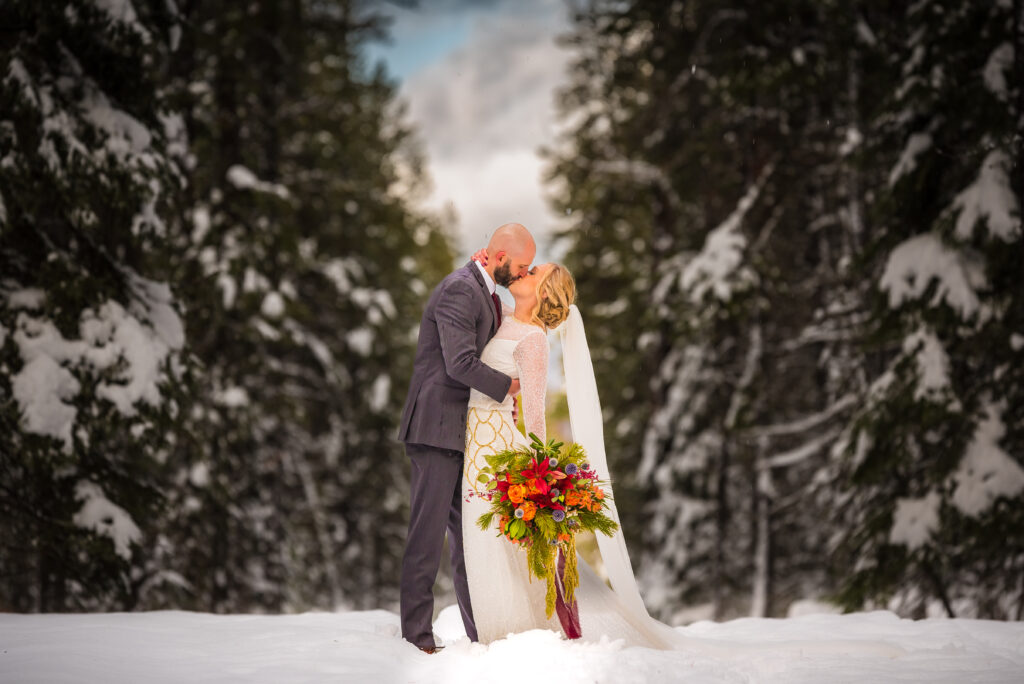 I know, I know, for the majority of people, the idea of winter weather and a bridal gown seems a little….. brisk. But winter in Montana can be absolutely magical. Some of the most beautiful sunsets and sunrises occur in the winter. Montana is also a very dry state, which is not as harsh a cold as humid states. It's the wind that really makes the cold bone deep, but we still have a lot of beautiful calm days in the Winter. And the Snow! That glorious Montana Snow that covers the landscape and makes everything fresh and new again. There is something truly magical about Glacier National Park when it is quiet, free of crowds, and covered in snow. 
One of the many perks, aside from the sheer beauty, of a winter elopement in Glacier, is that there are so few people. Some days I visit in the winter and don't see another soul. I am an extrovert and really do love people, but for elopements, I want my couples to have as much solitude and privacy as possible. One of my favorite things about elopements is the intimacy, and I do my best to protect that aspect.
Going-to-the-Sun-Road may close at Lake McDonald Lodge in the fall, but Glacier remains open and we still have many beautiful locations and accessible ceremony sites
So many people turn their Glacier National Park Elopement into a Montana Honeymoon. And in the winter, you can elope in Glacier and then enjoy your honeymoon skiing Big Mountain in Whitefish  and Blacktail in Kalispell.Or maybe stay at the iconic Izaak Walton Inn and cross-country ski and snowshoe during the day! Winter in Montana has so much to offer, so even though access to Glacier may be some what limited, you will not be short of exciting options for adventure. 
Skiing, dog sledding, snowmobiling, and ice fishing  are just a few of the many adventures you can enjoy when you decide to elope in Glacier National Park in the winter. Montana has so much to offer in every season!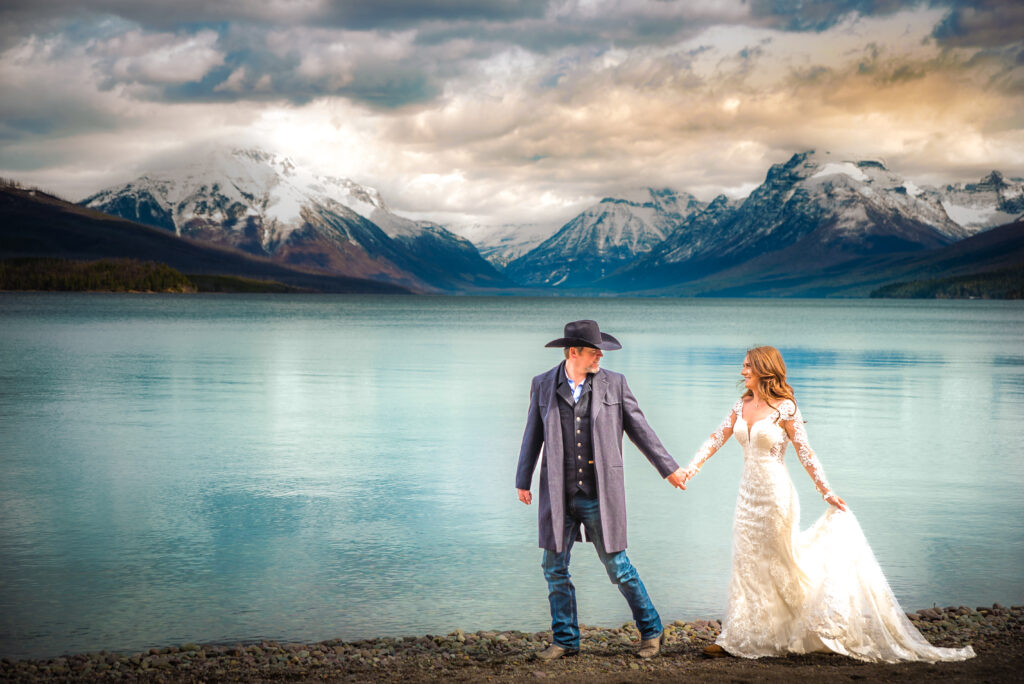 I'm not going to lie. Spring can be a little dicey. Maybe you'll have sun, maybe you'll have snow, maybe it will be an overcast day with rain or drizzle. But it's still Glacier and it's amazing in every type of weather. And I absolutely love the moody skies we get in the spring! The key in every season is to be prepared for the unexpected. But this is especially true for spring in Montana. While most of the country is embracing blue skies, flowers, and green grass…. We are still thawing out with patches of snow here and there. 
Spring is also a great time in Glacier because crowds are still at bay and the road is closed to cars, which means spring bike riding on one of the most scenic roads in the world without having to battle traffic. If you are looking for a little adventure for your elopement, a bike ride to a trailhead that you will have all to yourselves is a perfect option!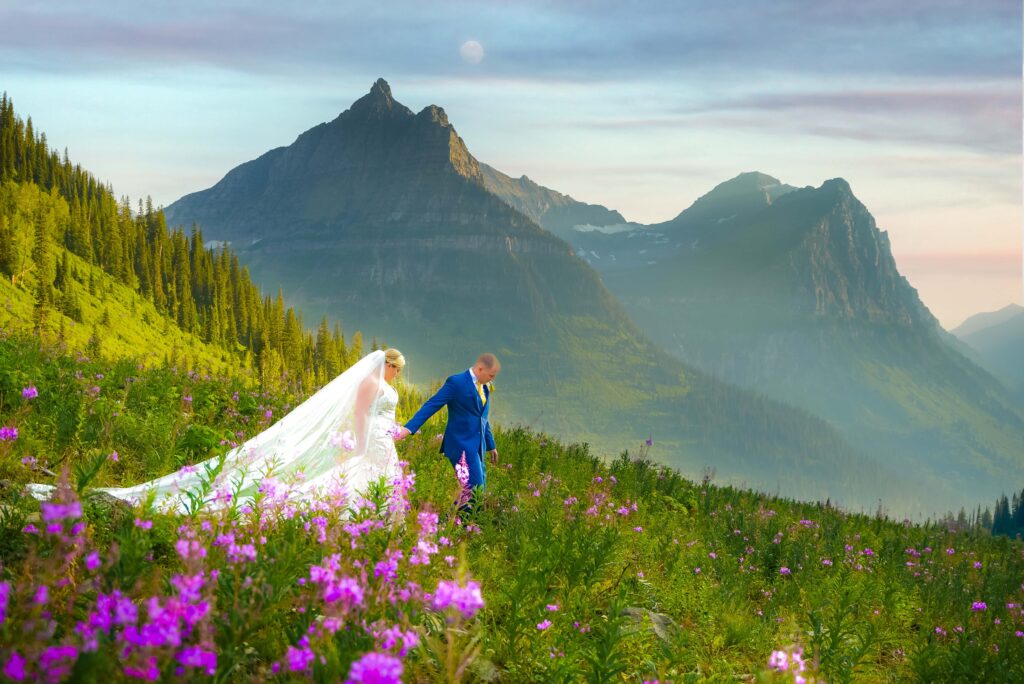 Summer in Glacier National Park is by far the most popular time of year for visitors. And for good reason…. Everything opens up and the mountains come alive! Of course summer in Montana begins in July and ends in August, but it's a glorious two months!
If you love to hike and climb then I recommend booking your Glacier National Park Elopement between July 1 and September 30th. The weather is mild, most of the trails are cleared, and the bridges are put in. This is also the busiest time of year here in Glacier.
When planning your elopement for summer it's important that you keep in mind that entry to the Going-to-the-Sun corridor as well as access to Bowman/Kintla, require a day pass. On your elopement day, your Special Use Permit (SUP for your ceremony location , will grant you entry for that day only. However most couples want to enjoy our National Park on the days surrounding their elopements, so it's important to secure a day pass for those days. Each vehicle needs a day pass for entry into Glacier in these areas. Two Medicine and Many Glacier do not currently require day passes, so ceremony permits in these regions will not grant access to the ticketed entry regions.
But summer in Glacier is absolutely stunning! The grass is green, the wildflowers take over, the sun shines, the waterfalls begin to flow, and the water is still freezing but is tolerable because it's actually warm outside! All of the animals come out to play and the Valley comes alive! Montana is a year round vacation destination, but in the summer all of the little shops and eateries open back up and there is just so much to see and do.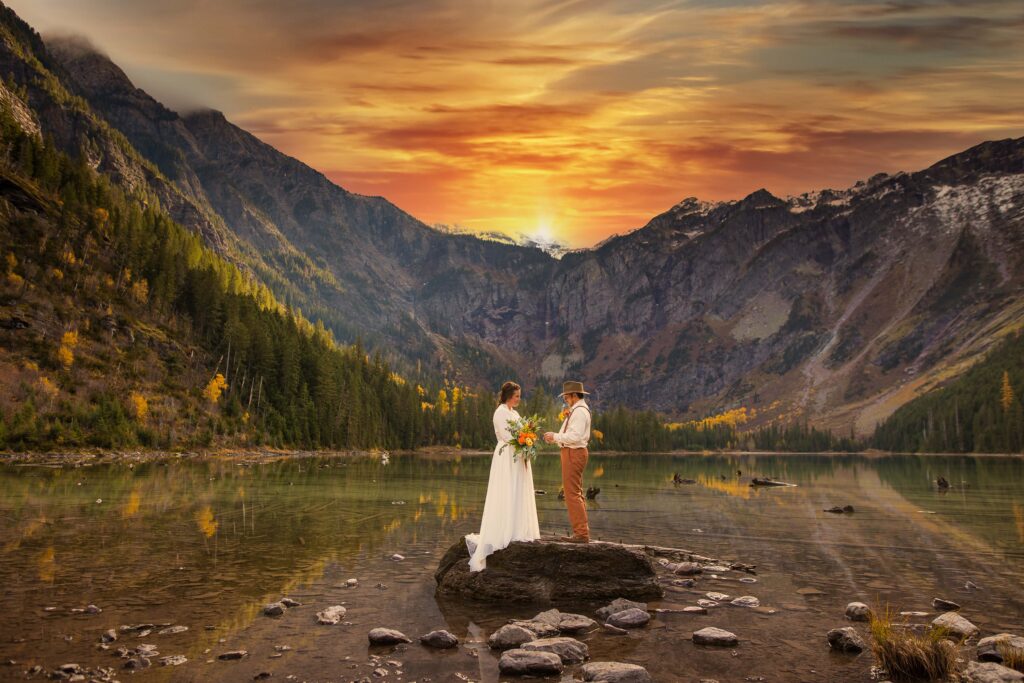 As a Montana elopement photographer fall is by far my favorite time of year in Glacier. I love the rich blues and greens of summer, but the colors that saturate the mountains in the fall are unmatched! 
The Aspen and Tamarack transition to yellow and gold, the ground coverings light up the mountains with reds and oranges, the skies become moodier, and the temperatures begin to fall. The air feels different, the crowds thin out, and we begin to see the sun set a little earlier.
Eloping in Glacier National Park in the fall, not only means fewer people, but the perfect hiking weather! Such a great time to adventure and explore!
Glacier National Park and Montana Elopement photographer and planner:
Regardless of what season you choose to plan your elopement or intimate wedding, the most important (first) step is choosing your elopement photographer and planner to help guide you through your Montana experience! I would love to help plan and photograph your Glacier National Park Elopement! 
I love living in the "Last Best Place" with Glacier only minutes away. I have hiked over 500 miles of trail in the Park and know it better than most. I would love to share my favorite scenic locations as well as the best trails to match whatever it is your are looking for. Sharing Glacier with my clients and being invited to photograph their families, elopements, engagements, maternity sessions and more, brings me so much joy. It is always an honor to be invited to capture these milestones and once in a lifetime memories, and I do not take that privilege lightly.
Thanks for reading and I hope I was able to provide a little insight on the best time for YOU to plan your Montana Glacier National Park Elopement!